Bio's of our available Children.
Jacob Child ID# 102024435
Meet Jacob! This special 13 year old young boy is playful, energetic, confident, and very direct with how he feels. He loves the way he is and if given the chance, he wouldn't change a thing about himself. His favorite color is green and on his free time, he likes to go skateboarding and loves to read. Jacob enjoys eating Chinese food and is also a dog lover. All Jacobs wants is a mom and dad who will provide him with love, care, and support. Interested in learning more about Jacob? Contact OsceolaAdoptions@embracefamilies.org
Raymone - Child ID#: 10530809
Raymone is an energetic 16 year-old boy. He enjoys playing in the water and playing with toys. Raymone is diagnosed with autism, and would do best in a home that is able to give him consistent love and work with him one-on-one. Raymone is able to follow simple directions; he is also able to mimic select words, and loves playing interactive games with other children! Interested in learning more about Raymone? Contact OsceolaAdoptions@embracefamilies.org
Antonio Child ID #103614429
Antonio is an active and intelligent thirteen years old. He loves listening to music, and like most boys his age, he enjoys watching TV, playing video games, and being outdoors. He also likes to play basketball and in addition, he enjoys playing cards with friends. He is energetic and enjoys being active. Antonio is articulate and likes to talk to people once he gets to know them. Antonio has a pleasant smile, and he is friendly. He is very affectionate and connects well to a mother figure. Antonio has been through some emotional struggles, but he wants a forever family that can provide the love, structure and the support needed for him to be successful in life! Interested in learning more about Antonio? Contact orangeadoptions@embracefamilies.org
Dariel - Child ID#: 103648602
Meet Dariel! Dariel is a very handsome 14 year old boy who takes much pride in his appearance and clothes. He always likes to look and dress nice. His favorite activities are basketball and football. When he grows up he would like to be a professional football player. He would like to go to Florida State University or University of Alabama. Dariel loves going to school and Church. He struggles with reading and writing, but is receiving tutoring. His favorite subjects are Math, Science and Social Studies. He is willing to work to learn new things and benefits from repetition and over-learning to embed new information. Dariel likes to figure out how things work and that he is eager to learn and understand as much as he can. He feels that he is clear with others about what he wants and "doesn't beat around the bush." This sweet boy with a warm personality needs a devoted family who is able to provide him love, a lot of structure and that will help him with his educational needs. Help Dariel be a part of your loving family. Interested in learning more about Dariel ? Contact orangeadoptions@embracefamilies.org
Jaquari Child ID#10813729
Jaquari is an outgoing 15 year old boy with an infectious smile who enjoys playing basketball and football. He is smart and funny and would like to be on his school football team in the fall. He wants to be a lineman. He says that being a lineman means hard work and that you are putting others first. He enjoys school and shares that his favorite class is his computers class. When not playing basketball or football, he likes to spend time playing video games or surfing the internet. Interested in learning more about Jaquari? Contact orangeadoptions@embracefamilies.org
Christian Child ID#11422629
Christian is a very easygoing 14 year old boy. He's a little timid when you first meet him, but once he is more comfortable his bright and engaging personality shine s through. . Christian is an open-minded individual who likes to explore different types of food. He enjoys being outdoors and playing sports, especially basketball. Christian hopes for a forever family who will accept him for who he is and ensure he maintains a connection with his twin sister. Interested in learning more about Christian? Contact OrangeAdoptions@embracefamilies.org
Shyann-
Shyann, 14 Mermaid-in-Training Shyann is an outgoing, fun-loving kid who's always ready for adventure! She loves Go-Karts, skateboards, and running loose at amusement parks, but her greatest love is the water. She's happiest when she's swimming, and could be named an honorary mermaid. When she's ready to chill, she enjoys reading a good book like the Percy Jackson or Diary of a Wimpy Kid series, and in school she's fascinated by her science lessons. Shyann's a sweet, determined kid who has come such a long way, and she craves the support and encouragement of a forever family. She'll excel in a patient, active two-parent home where she can be the sole focus and learn to truly believe in her strengths and abilities. Shyann is Placed in Central Florida but her Agency is in Tampa. For more info on Shyann contact the Heart Gallery of Tampa at 813-314-2021
Luis - Child ID#: 105543277
Luis is a fifteen year old who is wise beyond his years. Known for his polite demeanor and intelligence, Luis can hold deep discussions with both adults and peers. He may first come across as shy and reserved, but once he becomes more comfortable his great sense of humor shines through. Like other young people his age, Luis loves listening to music and playing computer games in his spare time. Luis has had a failed adoption in the past, and is eager to be placed in a home that truly is forever. Please email OsceolaAdoptions@embracefamilies.org for more information.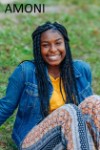 Amoni - Child ID# 10256335
Amoni is a kind and caring young lady. She is self- aware, thoughtful and loves being a big sister. Amoni likes to dance and enjoys school. She has a good head on her shoulders, allowing her to avoid conflicts and make good decisions. She enjoys eating pizza and her favorite color is green. When she is ready to have fun Amoni, likes to dance and go out with friends and family. When asked how she would like to change the world, her reply was to help others. She wishes that her super power could be Invisibility. One of her hidden talents is that she is skilled at playing the flute and trumpet. Amoni is also naturally very stylish. Amoni would like her forever family be active and kind hearted. She is part of a sibling group with Elise and Hannah. Interested in learning more? Please contact seminoleadoptions@embracefamilies.org for more information.
Elise - Child ID# 10256331
Elise is smart, spunky, and loves to joke around! Her outgoing personality makes her the center of attention. She is easy going and enjoys most foods and also likes animals. Elise is passionate about art, gymnastics, and band. She feels that she could use art as a way to help the world. When asked what her super power would be, she replied flying! Elise is part of a sibling group with Amoni and Hannah. Like her siblings, she would like her forever family to be active and willing to explore. For more information about Elise and her sweet siblings, please contact seminoleadoptions@embracefamilies.org.
Hannah - Child ID# 102535609
Hannah is a sweet, funny and a kind girl who likes to make a statement with her style and bright colors! She enjoys most foods and loves everything related to emojis. Hannah truly loves sports like her siblings and excels at gymnastics. For fun, she enjoys singing and watching movies. Her wish for the world is to help others. If she could have a super power it would be X-ray vision. Hannah is open to a loving family where she could receive attention and be able to continue her love for sports. Hannah is part of a sibling group with Amoni and Elise. Interested in learning more about Hannah and her sweet sisters? Please contact seminoleadoptions@embracefamilies.org for more information.
Jaiden - CHILD ID#: 10853733
Fourteen year old Jaiden is caring, kind and longs to be part of a forever family. He has been focused on improving his academics and learning new independent living skills such as basic cooking, laundry, and financial planning. Jaiden excels in baseball and is said to be good enough to make the big leagues one day. He has played on local and traveling teams for several years now. Like all teenagers, he enjoys playing video games and listening to music. He likes celebrating the traditional holidays and events with food! Jaiden has a young sister named Jada, so it is critical that Jaiden's family ensures the two siblings visit with each other often. For more information about Jaiden, please contact SeminoleAdoptions@embracefamilies.org
Ja'siah - CHILD ID#: 102941748
Ja'siah is a sweet, cheerful, active, smart, guarded, playful 7 year old boy. He enjoys playing with different toys such as cars, as well as playing with other children. Ja'siah likes participating in outdoor activities such as going to the park, theme parks, bike riding, swimming and playing outdoor sports. He enjoys learning and sharing with people what he has learned. He is very energetic and passionate. He is described as being very affectionate and loving and enjoys having some quality time with others. For more information about Ja'Siah, please email SeminoleAdoptions@embracefamilies.org.
Troy - CHILD ID#: 106552545
Troy is an outgoing 16 year old who prefers to stay to himself. He sometimes appears shy at first, but soon warms up to people who continue to engage with him. He enjoys playing basketball and being outdoors. His academics are improving, so Troy has begun enjoying his time at school more. When not playing basketball he likes to spend time playing video games and watching animated cartoon movies in TV and Netflix. Troy's favorite foods are Pizzas and Spanish food. He likes joking around and has established some good friendships in his current placement and gets along with his peers. When asked what kind of family he would want, Troy answers that he would be happy with any kind of family, a single mother or single father ,or both would work for him. He has also no preference if he would find a forever family in a two mothers or two fathers household. The only request he has, is to be the only child in the family, with his own room. Troy dreams of becoming a police officer in the future. With the assistance of his "Forever Family", Troy will have the opportunity to continue to progress in school, take a summer vacation and work hard to achieve his dream of becoming a successful adult. For more information about Troy, please email OrangeAdoptions@embracefamilies.org
Christian
Christian is a spirited, energetic 11 year-old who loves the outdoors. He is often described as happy and delightful, and clearly communicates his need and wants. Christian is a great conversationalist, and engages his peers with enthusiasm. He gets along well with both older and younger children, treating them with respect and a friendly ease. Christian has a healthy appetite, and loves pizza and pasta. Like most children his age, he likes to play with electronics, watch television, and spend time with friends. For more information about Christian, please email SeminoleAdoptions@embracefamilies.org.
Sierra - CHILD ID# 101351868
Sierra is a very bright 12 year old girl. Known for her upbeat energy and personality, she is always looking at the positive side, no matter what the outcome. Sierra is the eldest of two younger brothers, Joshua and Timothy. Sierra enjoys being a big sister to her brothers and is very loving. Sierra loves to be the center of attention and enjoys talking a lot. Sierra does require a wheelchair due to tumors on her right knee, but has started physical therapy to better improve her walking. **Please note that we will only consider families willing to adopt all three siblings together. For more information, please submit your completed homestudy to OsceolaAdoptions@EmbraceFamilies.org
Joshua - CHILD ID# 101351867
Joshua is an outgoing 10 year old boy with a great sense of humor. He is intelligent, and enjoys reading chapter books and attending school. His favorite class is Math. Like his brother, he also enjoys martial arts and swimming. Joshua would like to participate in competitions for Karate. **Joshua is in a sibling group with Sierra and Timothy. Please note that we are only considering families willing to adopt all three together. For more information, please submit your completed homestudy to OsceolaAdoptions@embracefamilies.org.
Timothy - CHILD ID# 101351866
Timothy is an 11 year old boy who is fascinated with cars, videos games and all types of electronics. Timothy enjoys school and his favorite class is reading. He prefers to read comic books about superheros, but his all-time favorite novel is Diary of a Wimpy Kid. Timothy's favorite physical activity is karate and is working really hard for his yellow belt. Timothy is diagnosed with autism, however is high functioning. **Timothy is in a sibling group with Joshua and Sierra. Please note that we will only consider families willing to adopt all three together. For more information, please submit your completed homestudy to OsceolaAdoptions@embracefamilies.org
Preston - CHILD ID#: 100315739
Preston is a caring and loving young boy with such a big heart. He has a sweet soul and loves helping others. His favorite colors are orange and blue as he is a true gator fan. Like most boys his age, Preston enjoys playing with his toys and loves eating pizza. He is non-verbal so he uses computer programs to communicate his wants and needs. Preston has the ability to attach to others and he needs a two-parent forever family that will dedicate their time, efforts and love to him. For more information about Preston, please submit your completed home study to SeminoleAdoptions@EmbraceFamilies.org